Gov. Paul Hamilton
---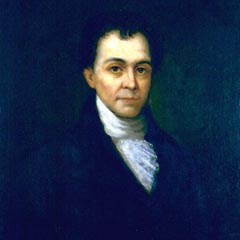 1762 -1816
Born 16 October 1762 in Willtown, Parish of St. Paul, S.C., Paul Hamilton was the only surviving son of Archibald Hamilton (1736-1766) and Rebecca Branford (1739-1792). His education was cut short due to the onset of the American Revolution. Hamilton volunteered with the South Carolina Militia and served at the siege of Savannah, Ga. (Sept. - Oct. 1779) and the Battle of Camden, S.C. (Aug. 1780). He served under Gen. Francis Marion and later served under William Harden (1743-1785) during the capture of Fort Balfour (13 April 1781), a British garrison in Beaufort County, S.C. Paul Hamilton inherited his father's lands in the Parish of St. Paul, but his initial planting venture involved the cultivation of indigo on Edisto Island during 1782 and 1783. He moved back to St. Paul by 1788 where he cultivated rice. A tax return from 1788 recorded that Hamilton owned 1,602 acres and 36 slaves at Willtown in the Parish of St. Paul. From grants made after 1786 he gained title to 828 acres along the Edisto River and 447 acres along the Little Salkehatchie River; however, by 1790 he had sold his property in St. Paul and established himself on a leased plantation in the Parish of St. Bartholomew present day Colleton County, S.C. The census from that year listed 47 slaves as residing on his property in St. Bartholomew.

Hamilton's first public service came after the war when he acted as tax inquirer and collector for the Parishes of St. Paul (1785-1786) and St. Bartholomew (1786). In addition to two terms serving as justice of the peace (1786, 1790), Hamilton was commissioner for Colleton District, S.C., to select a central place for the erection of a courthouse and jail (1798), and trustee to apply escheated property for charitable societies in Colleton District (1799). At this time he held the position of trustee of the Willtown Presbyterian Church.

Hamilton's first legislative office came with his election to the South Carolina House of Representatives, from the Parish of St. Paul (1785-1786) and St. Bartholomew (1786). In 1788 he voted in favor of ratification of the federal Constitution as a delegate of St. Paul. The Parish of St. Bartholomew elected him state Senator in 1794, a position which he held until 1799 (throughout the 11th, 12th, and 13th General Assemblies). During his terms, Hamilton served as chairman of the Committee of Public Accounts. From 5 March 1800 until his election as Governor, 10 December 1804, Hamilton served as Comptroller of Finance for the state. He filled the position of elector during the 1800 Presidential election, casting his vote for the Thomas Jefferson-Aaron Burr ticket. During his two year gubernatorial term he favored military preparedness, reform of the state's system of apportionment, and adjustments in the penal code. As governor, Hamilton also opposed legalization of the African slave trade in South Carolina. In 1803 South Carolina had resumed the importation of slaves from Africa as cotton became profitable and the demand for labor increased, although the trade would officially end in 1808 by order of the U.S. Congress. Following his term as governor he again served in the South Carolina House as a Representative from St. Bartholomew during the 18th General Assembly (1808-1809).

Hamilton resigned his position in the General Assembly when appointed as the United States' third Secretary of the Navy by President James Madison on 15 May 1809. He served in this capacity until 31 December 1812, when he returned to South Carolina. While thus employed he sought fiscal economy and increased naval preparedness and sea defenses, but his major achievement in this post was the passage of the Naval Hospitals Act in 1811.

On October 1782 he married Mary Wilkinson (1763-1827), the daughter of Edward Wilkinson and Ann Ninnian. They had 8 children Eliza, Archibald, Susan, Edward, Mary, Rebecca, Paul, Jr., and Margaret Wilkinson. Paul Hamilton died 30 June 1816 at Rhodes Plantation outside of the Beaufort District and was buried in the Talbird family graveyard on Whale Branch plantation in Beaufort District now known as Clarendon Plantation at Grays Hill on the outskirts of Beaufort, SC.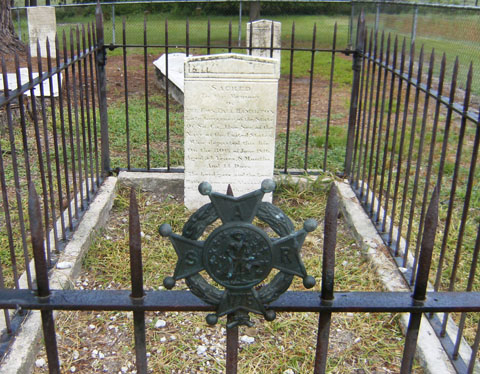 Patriot Grave Site
Gov. Paul Hamilton
Talbird Cemetery, Clarendon Plantation
Beaufort, SC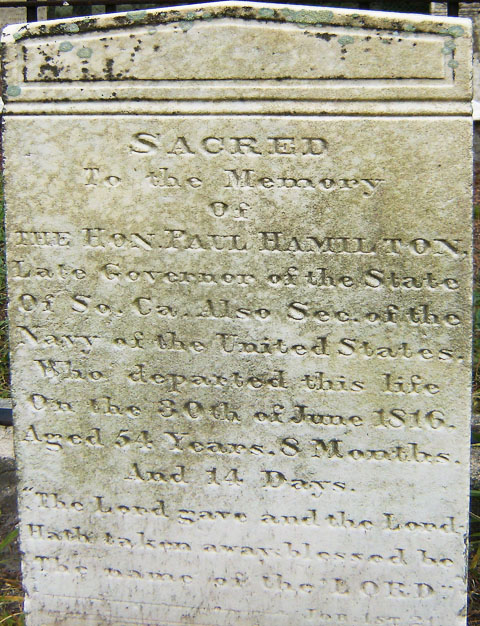 Patriot Grave Marker
Gov. Paul Hamilton
Talbird Cemetery, Clarendon Plantation
Beaufort, SC