Home
---
Isaac Hayne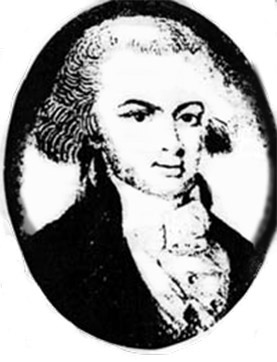 Isaac Hayne (23 Sept 1745 - 4 Aug 1781)
-m- Elizabeth Hutson (11 Jan 1746 - 1781)
Son of
Isaac Hayne (27 July 1714 - 23 Dec 1751)
-m- Sarah Williamson (about 1715 - about 1747)
This is the MARTYR. Isaac was an officer in the Colleton Regiment of Militia and elected to SC Assembly in 1777, 79, 80. He accepted a conditional parole from the British when they captured Charleston in 1780 because his wife and children were dying of Small Pox(?) and he needed to get home to them. He was captured by the British because his horse broke a leg leaping a ditch and he was hanged as a Traitor to the British. He was held in the Provost Dungeon at the foot of Broad St. in Charleston. They reenact his imprisonment and execution for tourists. His story is told in The Execution of Isaac Hayne by D. K. Bowen (Sandlapper Press) and The Execution of Colonel Isaac Hayne by Robert Y. Hayne in Southern Review I (1828). A monument marks the site of his burial near Jacksonborough. His home was called Hayne Hall but it burned.
[v. 3, No. 135.] Isaac Hayne to Lord Rawdon and Col. Balfour PROVOST, July 29, 1781. My Lord and Sir: On Thursday morning I had the honor of receiving a letter from Major Frazer, by which he informed me, that a council of general officers would be assembled the next day for my trial; and on the evening of the same day, I received another letter from the same officer, acquainting me, that instead of that, a court of inquiry would sit for the purpose of deciding under what point of view I ought to be considered. I was also told, that any person whom I should appoint, would be permitted to accompany me as my counsel. Having never entertained any other idea of a court of inquiry, or heard of any other being formed of it, than of its serving merely to precede a council of war, or some other tribunal, for examining the circumstances more fully, except in the case of a spy; and Mr. Jarvis, lieutenant marshal to the provost, not having succeeded in finding the person who had been named for my counsel, I did not take the pains to summon any witnesses, though it would have been in my power to have produced many; and I presented myself before the court without any assistance whatever.
When I was before that assembly, I was further convinced that I had not been deceived in my conjectures. I found that the members of it were not sworn, and the witnesses were not examined upon oath; and all the members, as well as every person present, might easily have perceived, by the questions which I asked, and by the whole tenor of my conduct, that I had not the last notion that I was tried or examined under an affair on which my life or death depended. "In the case of spies, a court of inquiry is all that can be necessary, because the simple fact whether a person is or is not a spy, is all that can be the object of their researches; and his having entered the liens of the enemy's camp or garrison, subjects him to military execution. As that accusation neither is nor can be made against me, I humbly conceive that the information I received, that the court would make inquiry concerning what point of view I ought to be considered under, could not be taken as a sufficient notice of their having an intention to try me then; but could only be thought to signify, that they were to take into consideration whether I ought to be looked upon as a British subject or as an American: that in the first case I should undergo a legal and impartial trial; in the second, I should be set at liberty on my parole. Judge then, my lord and air, of the astonishment I must have been in, when I found they had drawn me by surprise into a proceeding tending to judgment, without my knowing it to be such; and deprived me of the ability of making a legal defense, which it would have been very easy for me to have done, founded both in law and in fact; when I saw myself destitute of the assistance of counsel and of witnesses; and when they abruptly informed me, that after the procedure of the court I was condemned to die, and that in a very few days immediately upon receiving this notice, I sent for the lawyer whom I had originally chosen for my counsel. I here enclose his opinion concerning the legality of the process held against me; and I beg that I may be permitted to refer myself to him. I can assume you with the utmost truth, that I had and have many reasons to urge in my defense, if you will grant me the favor of a regular trial; if not, which I cannot however suppose from your justice and humanity, I earnestly entreat that my execution may be deferred, that I may at least take a last farewell of my children, and prepare for the dreadful change. I hope you will return me a speedy answer; and am, with respect, ISAAC HAYNE" (From Documentary History of the American Revolution, by Gibbes, Volume 3, p. 109) Doc ID: Gibbes, v. 3, p. 109b Date: 7/29/1781
---
The South Carolina Society
of the
Sons of the American Revolution

The South Carolina Society was organized April 18th, 1889 in a room at the State Capital in Columbia. After the election of officers, the organizing group appointed delegates to the proposed National Convention in New York City to be held later in the month. The National Society was organized April 30th, 1889. Those descendents of our brave ancestors, whose vision and courage gave us our great nation, formed a fraternal, patriotic, and civic organization to perpetuate the basic principles of freedom to honor our founding fathers. The name adopted by the organization was the Sons of the American Revolution. The South Carolina Society began granting charters to chapters in 1923. Currently twenty chapters promote the American spirit through fraternal meetings, commemorative observances of events and battles, educational materials, projects, lectures, tours and publications. South Carolina is rich in historical events of the American Revolution. From the mountains to the coast, South Carolina experienced the most battles and skirmishes of the war. The twenty chapters of our society sponsor annual anniversary ceremonies of many of the battles and events.

Relics of the Revolution may be found throughout the state in some federal and state parks, museums, and libraries. Markers are found in our countryside reminding us of the sacrifice of our ancestors. The Society seeks to mark graves of our Revolutionary ancestors. Since the organization of the South Carolina Society, over 3,000 have filled the membership ranks. As of March 12, 2018 membership was 863.

The South Carolina Society of the American Revolution joins in effort with the Daughters of the American Revolution, the Children of the American Revolution, and all patriotic and historical groups in keeping alive the ideals of our ancestors who gave us our United States of America.